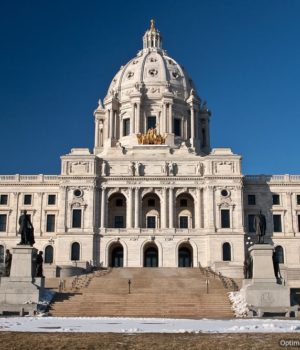 A crucial vote today in the Minnesota House positioned the state to become the 12th in the United States to permit gay marriages and the first in the Midwest to pass such a law.
The 75 to 59 vote was viewed as the first pivotal step for the bill to become a law; the law would permit same-sex couples to marry beginning August 1st. The vote represents a starting shift in the state, where just six months prior voters surprisingly rejected an effort to ban same-sex marriages in the state's constitution.
The Minnesota Senate is expected to consider the bill on Monday, and leaders anticipate that the measure will pass. Governor Mark Dayton has pledged to sign the bill into law if it passes.
Hundreds of people on both sides of the debate rallied Thursday at the state Capitol, which was under tighter than the usual security. Pro-marriage supporters lined the hallways outside the House Chambers. Many of these individuals were dressed in orange and held signs that read< "I support the freedom to marry." Behind these supporters were opponents who held up their own signs, reading simply "Vote No."
Eleven other states in the U.S. currently permit gay marriage, including Delaware and Rhode Island, which approve the measure in the past 6 days. If the bill passes, Minnesota would be the first state in the Midwest to permit gay marriages out of its legislature.
Iowa; however, permits gay marriages because of a 2009 court ruling, and leaders in Illinois claims that the state is very close to having the votes needed to approve gay marriages. That said, the majority of other states surrounding Minnesota implement constitutional bans against same-sex marriages, so the shift in support may not spread the country's heartland nearly as quickly as it has to the liberal areas, particularly the coast lines and New England.
The push for gay marriage in Minnesota grew out of last fall's successful campaign to strike down a constitutional amendment that would have prohibited it. Minnesota thus became the first to turn back such an amendment after 26 states had passed one.
This same election put Democrats in control of the state government for the first time in more than 20 years, which is a perfect scenario for gay marriage supporters to quickly pursue legalization.
Source: Human Rights Campaign